Communities Making a Change –
1 Vaccine at a Time
Getting all Delawareans vaccinated is not just the work of the Division of Public Health, DEMA or other state agencies. Community-based organizations, physicians, Federally Qualified Health Centers and hospital systems are also playing a huge role in this life saving initiative. The State and its partners are trying new and creative ways to vaccinate their communities, tailoring programs to each population's needs. This page is designed to share their stories and uplift the partnerships that are successfully vaccinating Delawareans and making the state a safe place to live.
Also, check out other community spotlight stories on the CDC's site.
Share a Success Story
Find an Event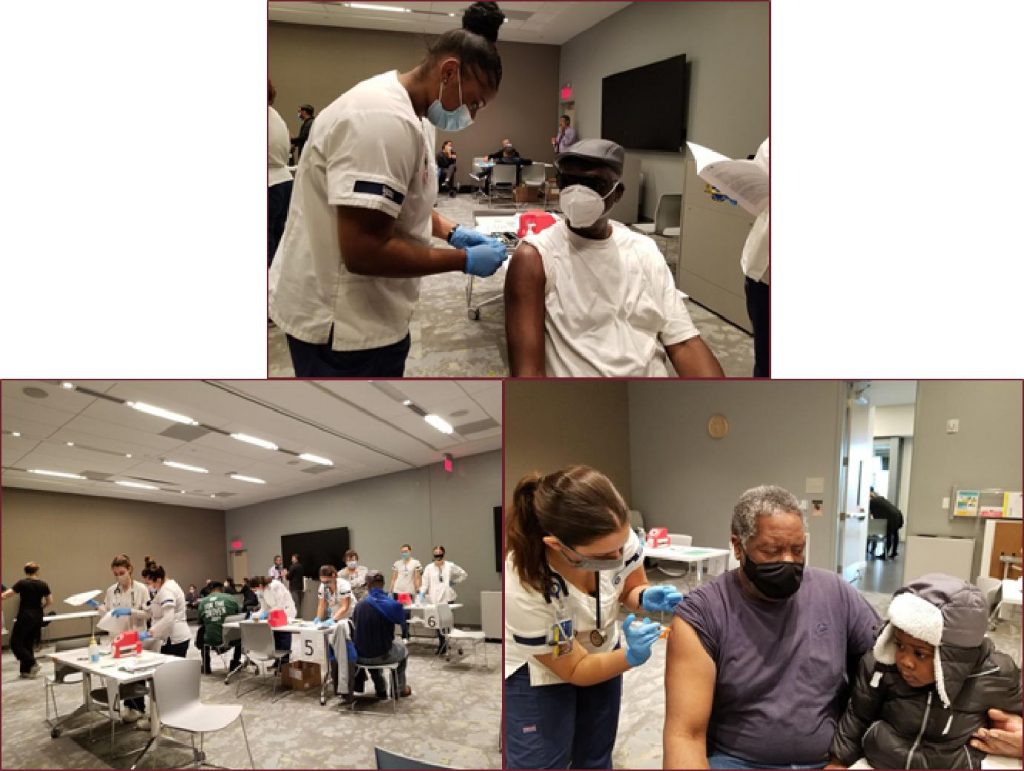 Lifting Up Delaware's Success Stories
This Week's Spotlights
Georgetown community clean-up event
On Saturday, June 26th, the Georgetown CommUNITY Coalition, a group of community partners, organized a clean-up event followed by a fun family celebration. The hub for the day-long event was Georgetown's historic Fire Station at 201 Depot Street. Volunteers began arriving early around 8:00 AM and despite a torrential downpour, participated wholeheartedly in the collective event. The coalition partnered with the Sussex County Librarie's Bookmobile & Beebe Healthcare to setup a mobile COVID-19 vaccination clinic where 69 people received their vaccine throughout the day.
Expecting significant participation from the Hispanic community, organizers had arranged for translators to help share information and allay concerns related to vaccines. Additionally, Kevin Andrade from Maxima Radio broadcast live from the venue and urged people to come out and get their vaccines.
A big reason for the success of the event was strong partnership between community organizations (First State Community Action Agency and La Esperanza), health care providers (Beebe healthcare) and local businesses (Maxima Radio Station and local restaurants), as well as the support of Sussex County EMS!
Photos (by Georgetown CommUNITY Coalition):
Top left: Bookmobile vaccination area
Top center: children cleaning the town
Middle left: Community member receives vaccine
Bottom left & right: Volunteers clean the town
On March 25 and April 24, the United Food and Commercial Workers (UFCW) Local 27 hosted vaccination events in Selbyville, DE for poultry and food service workers, as well as their families and the public. In these two events, UFCW partnered with Delaware's Division of Public Health (DPH) to vaccinate over 150 individuals, nearly half of whom were Hispanic. UFCW Local 27 Selbyville Office Assistant Director Jesus Sanchez was grateful for the opportunity to perform outreach in the local community, including at a local BJ's in Millsboro, to encourage Delawareans to come to the event and receive their COVID-19 vaccine.
These successful events are being used as a model for other vaccination events across the country, and have also been featured in a recent Delaware state news story here.
UFCW Local 27 looks forward to offering second dose clinics later this month.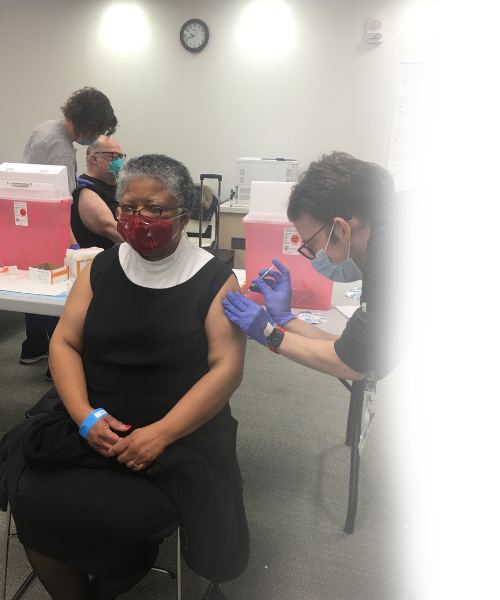 "I decided to get vaccinated, because I believe we'll only get this pandemic under control when people get vaccinated."
– Rev. Rita Paige, Dover
"Brigitte is happy to be back to her EPIC (Endless Possibilities In the Community) exercise program at the Y. Being fully vaccinated means she can see her friends again and return to being part of the community."
– Brigitte, New Castle County
Stats on COVID-19
For more data on Delaware COVID-19 cases including demographic breakdowns, go to My Healthy Community
Related Topics: community, COVID-19 Vaccine, Events, Success Stories