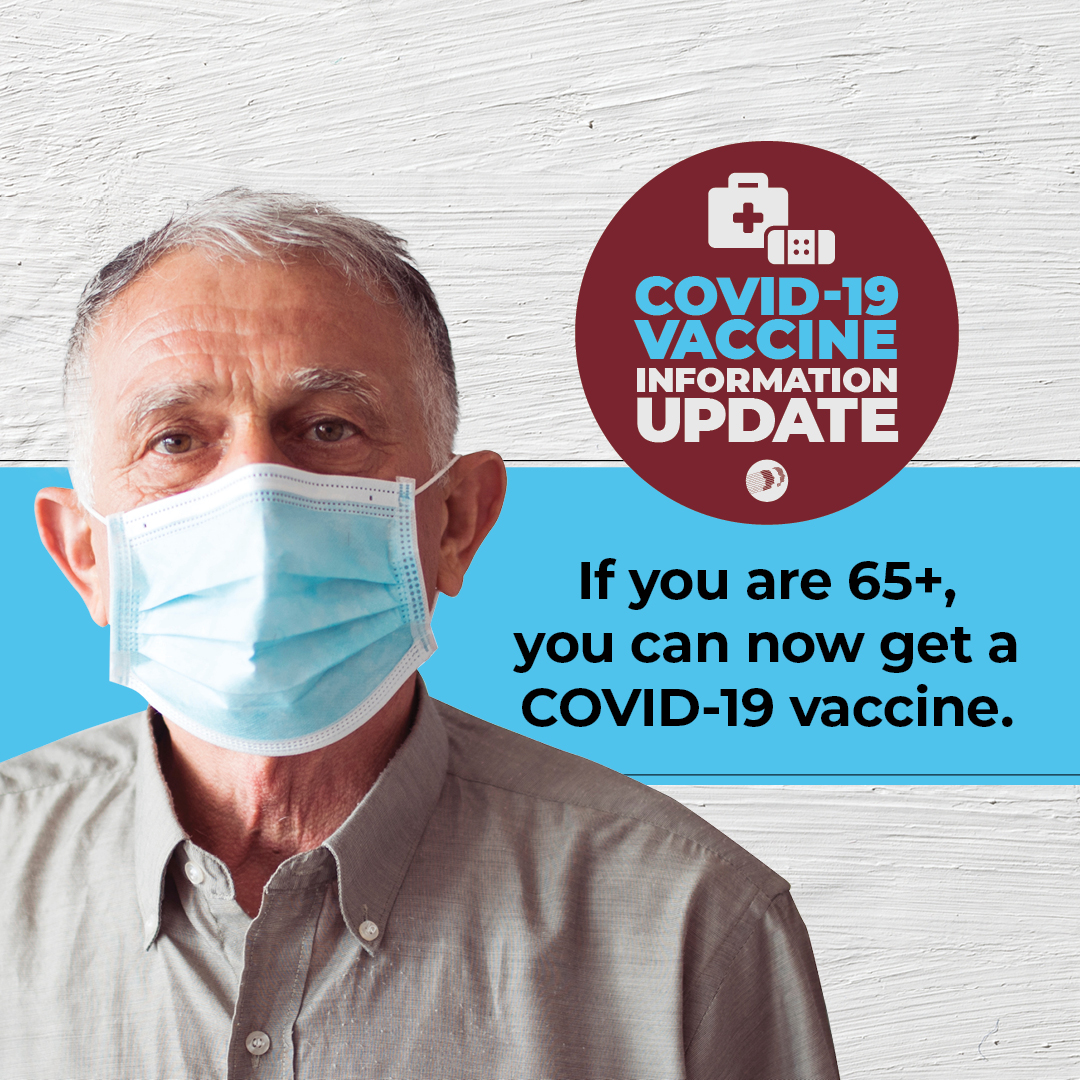 Where can I get vaccinated if I am in Phase 1B?
There will be multiple options for Delawareans to be vaccinated in this phase. Currently the focus of vaccination efforts are on those 65+. Very limited portions of the frontline essential workers category (K-12 educators, childcare providers, DOC staff) are being vaccinated initially due to limited vaccine supply and their increased risk for contracting and transmitting COVID. Other frontline essential workers are asked to be patient, as it may take a few more weeks to be able to vaccinate this group more broadly.
Find Where to Get Vaccinated
We Are Currently in Phase 1B
Facts at a Glance
People covered in Phase 1A and 1B are eligible to get vaccinated.
Phase 1A includes health care personnel with direct patient contact and care, Emergency Medical Services agencies, and long-term care staff and residents. Efforts will continue to vaccinate individuals in this group.
Long-term care residents and staff will continue to be vaccinated by either CVS or Walgreens pharmacy staff as part of a federal program.
Phase 1B includes all individuals 65 and over, and frontline essential workers including: fire, police, correctional officers, teachers and education staff (including child care providers), U.S. postal workers, food manufacturing, agriculture, public transit workers, and grocery store workers. Vaccination efforts are initially focused on those 65+. It may take several weeks to make vaccination available to all frontline worker categories.
Learn More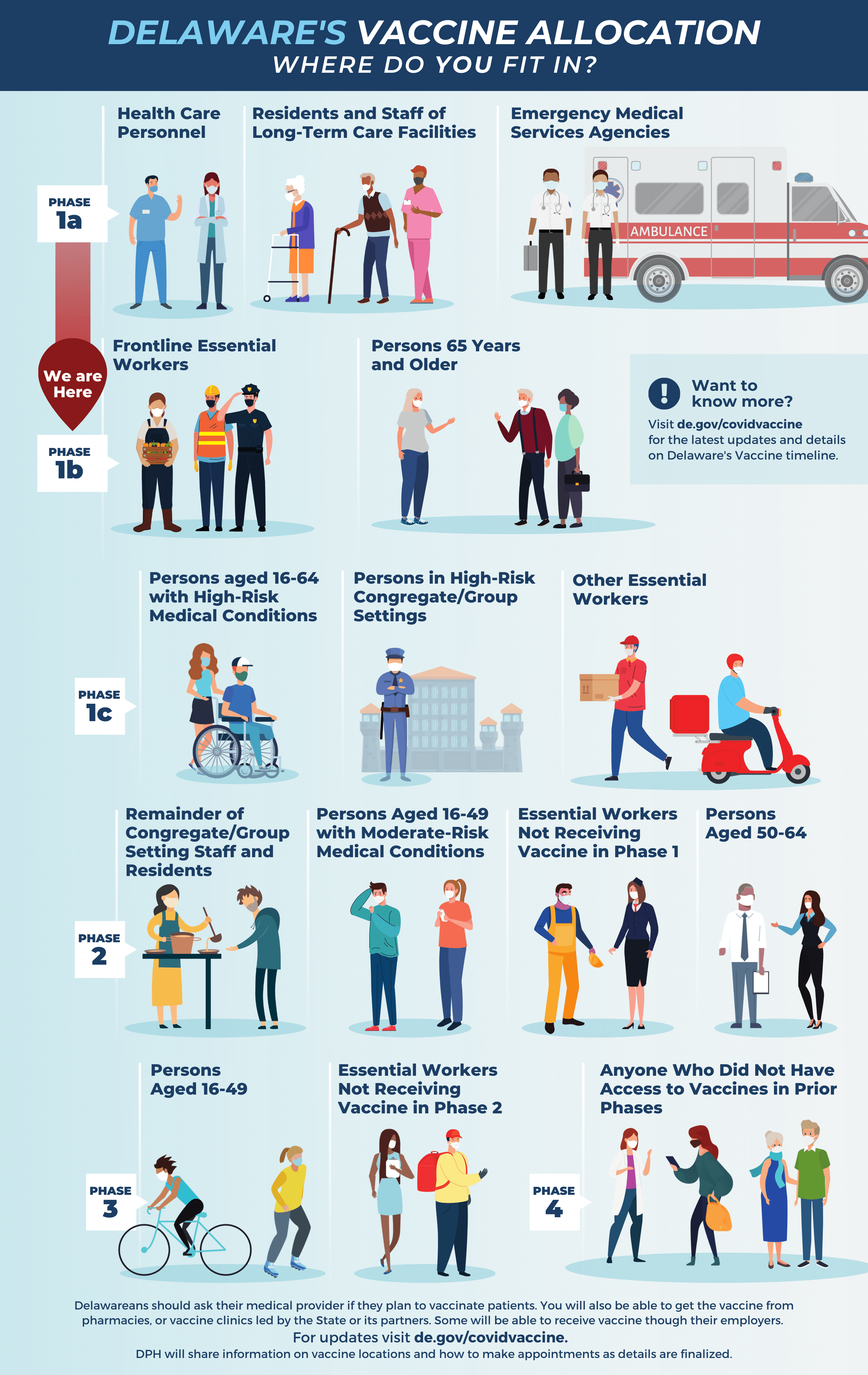 ---
Phase 1C
Who:
Persons aged 16-64 with high-risk medical conditions (Obesity, Severe Obesity, Diabetes, COPD, Heart Condition, Chronic Kidney, Cancer, Smoking, Solid Organ Transplant, Sickle Cell Disease, Intellectual/Developmental Disabilities, Severe and persistent mental/behavioral health conditions).
Persons living in high-risk group settings such as correctional facilities, homeless shelters, and group homes.
Other essential workers (Transportation and Logistics, Food Service, Shelter and Housing (construction), Finance, IT and Communications, Energy, Media, Legal, Public Safety (Engineers), Water and Wastewater, and Clergy. Vaccines may be available through employers.
When:
Start time for this Phase is dependent upon supply. Watch for updates in the news, our social media channels and this page. Not all essential workers in each category will be eligible to be vaccinated at first. Those with more frequent public contact, and higher health risks will likely be eligible first.
How/Where:
More details will be made available on where to get the vaccine, as details are finalized. For those with high-risk conditions: Vaccines will be available from pharmacies, some primary care providers, and vaccination clinics run by the state or its partners. For those living in group or congregate settings: Vaccines may be available within these settings or from service providers. For other essential workers: vaccines will be available through your employer through either onsite vaccination events, off-site clinics, or a voucher system that can be used at pharmacies or vaccine clinics run by the state or its partners. Look for details from your employer.
Learn More
---
COVID-19 SCAM ALERT
Delawareans please be careful. There are reports about a potential phone scam in which scammers are claiming to be from the State of Delaware offering the COVID-19 vaccine for a cost of $75. This is false. Hang up & do not provide any personal or financial info. Please report these calls to the Department of Justice Consumer Protection Unit at de.gov/consumer or by phone at (800) 220-5424.

What to know about the COVID-19 Vaccine
The development of one or more vaccines against COVID-19 has been something the American public has been eagerly waiting for in hopes that it will bring us closer to a return to normalcy. Currently three vaccines are available, Pfizer and Moderna, which require two doses to be given 3 – 4 weeks after the first, depending on the vaccine…and now J&J's Janssen vaccine, a single-dose vaccine. All three are equally effective (100%) at preventing death and hospitalization, and are similarly effective at preventing severe disease from COVID. The vaccine is free for all Delawareans. The CDC says serious side effects are exceedingly rare. Learn more about the vaccines and Delaware's plans to distribute them to residents below.
Select an Option Below to Learn More:
---
Information for…
Below you will find information based on your specific need.
Select an Option Below to Learn More:
Report Vaccination Violations
Submit complaints about a vaccination provider by using this form, if you think they are violating any of these requirements.
Additionally, any health care provider who intentionally or willfully provides or distributes, or who supervises someone who intentionally or willfully provides or distributes the COVID-19 vaccine to any individual who is not authorized to receive such vaccine pursuant to the Vaccination Guidance is guilty of unprofessional conduct as defined in Title 24 and may be subject to licensure discipline. Send your complaints to Division of Professional Regulation about this conduct.
Get More COVID Data
For more data on Delaware COVID cases, testing and outcomes, including demographic breakdowns, go to My Healthy Community
Related Topics: Vaccine