Vaccine Information for Children
Vaccine Information for Children
---
Currently, Pfizer-BioNTech's COVID-19 Vaccine is available for youth ages 5 and older. Moderna and Johnson & Johnson's vaccines are not yet approved for children under age 18.
Vaccination for children and teens is important because they can get infected with, be hospitalized and suffer long-term symptoms from COVID-19.
View the CDC's information on:
---
What You Need to Know
Children and teens need two doses at least 3 weeks (21 days apart)
Children and teens with weakened immune systems need 3 doses (plus a booster for those 12+)
The FDA and CDC have indicated COVID-19 vaccines are safe for children and teens
Serious side effects are rare
No long-term side effects have been identified
There is no evidence that COVID-19 vaccines cause fertility problems
The risk of developing heart complications (myocarditis, pericarditis) is higher after having COVID-19 than after getting the vaccine
---
Where Can I Get My Child Vaccinated?
Particularly with younger children, DPH recommends parents contact their child's pediatrician or family doctor/health care provider for vaccination. However, if the provider is not offering vaccination, or it's simply more convenient families can check our vaccine locator: Visit de.gov/getmyvaccine for a location near you
*Note: Written parental consent is required to vaccinate individuals younger than 18 years old, however the parent is not required to be on site with the child during the vaccination.
---
Children Ages 5 – 11
Children ages 5 – 11 receive an age-appropriate dose of the vaccine:
Pediatric dose (10 mcg) is 1/3 the adult dose (30 mcg)
Reducing potential side effects was one reason the dosage was lowered for those 5-11.
Addition of tri-sucrose, an inactive ingredient used in other vaccines making it easier to dilute and stabilize in a refrigerator
Trial Data showed the vaccine was found to be more than 90% protective against developing symptomatic COVID-19 (including among children with asthma and obesity)
---
Children ages 12 – 17
Teens 12 and older receive the same dose of Pfizer as adults do
Teens 12 and older who are relatively healthy can wait up to 8 weeks for their second dose of the vaccine
Teens ages 12 to 17 years old should receive a booster of the COVID-19 vaccine at least 5 months after getting their first two doses.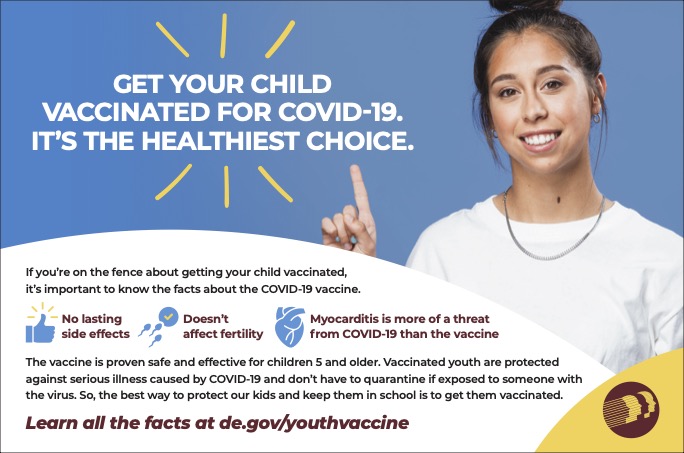 ---
Resources:
Get More COVID Data
For more data on Delaware COVID cases, testing and outcomes, including demographic breakdowns, go to My Healthy Community