What You Should Do After You're Fully Vaccinated
What You Should Do After You're Fully Vaccinated
---
What can I do after I've been fully vaccinated?
We know that with more people getting vaccinated everyone is eager to get back to the people and the moments that they love the most. Based on research, the CDC has indicated that fully vaccinated people can relax some of their mask wearing and social distancing activities under most situations. See the
CDC's full set of recommendations
.
The CDC's recommendations do not take the place of restrictions of provisions set by individual businesses that may continue to require the use of face coverings.
DPH recommends unvaccinated individuals, including children ages 2 and older not yet eligible for a COVID-19 vaccine, should still wear masks in public settings and around others who are outside their immediate household.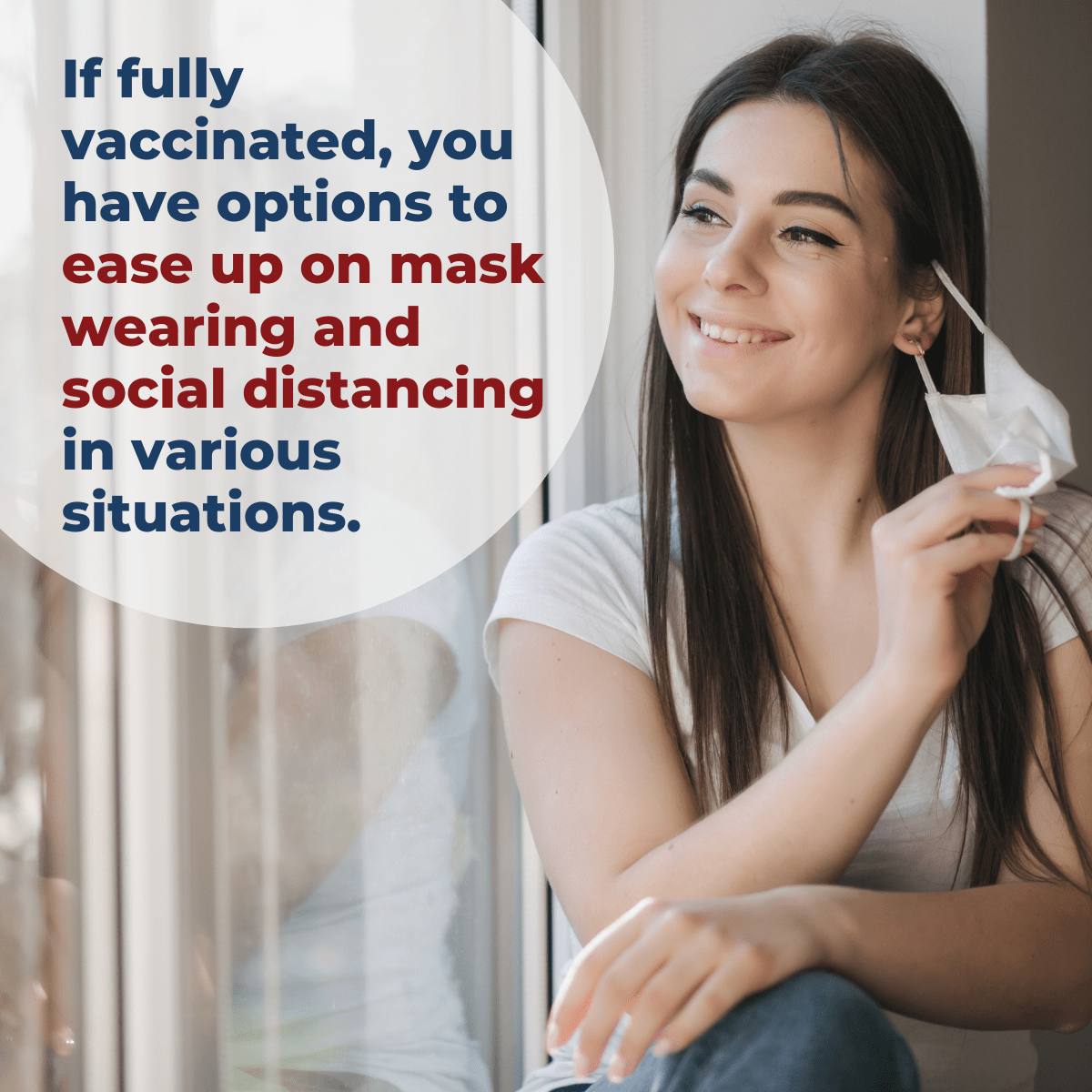 ---
What does fully vaccinated mean?
People are considered fully vaccinated:
2 weeks after their second dose in a 2-dose series (of Pfizer or Moderna vaccines), or 2 weeks after a single-dose vaccine, (Johnson & Johnson's Janssen vaccine)
If it has been less than 2 weeks since your 1-dose shot, or if you still need to get your second dose of a 2-dose vaccine, you are NOT fully protected. Keep wearing face masks, and social distancing in all situations.

---
If you've been fully vaccinated…
Face Masks
  Masks are not required except on public transportation, in long-term care facilities (situational), in State-run buildings, and where required by individual businesses, schools, or health care facilities. The Centers for Disease Control and Prevention (CDC) recommends you wear a face mask in areas of high transmission (Visit CDC COVID-19 data tracker
https://covid.cdc.gov/covid-data-tracker/#datatracker-home 
Testing, Quarantine, and Isolation
Fully vaccinated persons who develop COVID-19 symptoms should get tested, and isolate at home until your results come back, continuing to do so if your test comes back positive. If you have been identified as a close contact of someone who has COVID-19.
You should get tested 3-5 days after your exposure, even if you don't have symptoms.
You should also wear a mask indoors in public for 14 days or until your test result is negative.
You do not need to quarantine unless you test positive or develop symptoms  – unless you live and work in a congregate (group setting) such as a correctional or detention facility, or a homeless shelter.
Fully vaccinated people who live in a household with someone with is immunosuppressed, at increased risk of severe disease, or unvaccinated (including children <12 years of age) could also consider masking at home for 14 days following a known exposure or until they receive a negative test result.
You should monitor for symptoms of COVID-19 for 14 days following exposure.
Travel Recommendations
If you travel in the United States,  you do not need to get tested before or after travel or self-quarantine after travel. If you travel internationally:
You do NOT need to get tested before leaving the United States unless your destination requires it. Check with your destination country's requirements prior to travel.
You still need to show a negative test result or documentation of recovery from COVID-19 before boarding an international flight to the United States
You should still get tested 3-5 days after international travel.
Review the CDC's guidance for Choosing Safer Activities for Fully Vaccinated vs. Unvaccinated People.
DPH Guidance, Quarantine, and Testing Recommendations For Fully Vaccinated Persons

Quick Q&A:
"If I'm fully vaccinated, is there anywhere I still need to wear a mask?
You will need to wear a mask if a particular business, organization, health care provider, or your employer requires it in their building.
---
Fully vaccinated people should still…
Watch out for symptoms of COVID and get tested if you have them.
For a list of testing sites in DE visit de.gov/gettested.
If you test positive for COVID-19 whether you have symptoms or not, you should isolate for 10 days from the time of your test or your symptom start date. If you test positive for COVID-19 whether you have symptoms or not, you should isolate for 10 days from the time of your test or your symptom start date.
---
What we know…
COVID-19 vaccines are effective at preventing COVID-19 disease, especially severe illness and death. COVID-19 vaccines are effective against severe disease and death from variants of the virus that causes COVID-19 currently circulating in the United States, including the Delta variant. Infections happen in only a small proportion of people who are fully vaccinated, even with the Delta variant. When these infections occur among vaccinated people, they tend to be mild. If you are fully vaccinated and become infected with the Delta variant, you can spread the virus to others. People with weakened immune systems, including people who take immunosuppressive medications, may not be protected even if fully vaccinated.
What we're still learning…
How long COVID-19 vaccines can protect people.
---
I got vaccinated because…
Get More COVID Data
For more data on Delaware COVID cases, testing and outcomes, including demographic breakdowns, go to My Healthy Community
Related Topics: COVID-19 Vaccine, Fully Vaccinated, Vaccinated