Vaccine Safety and Monitoring
Vaccine Safety and Monitoring
---
Compare the Three Vaccines:
Is it OK for Me to Get the Vaccine?
Vaccine Ingredients and Allergy Information (5.13.21) | Español
Vaccine Safety Monitoring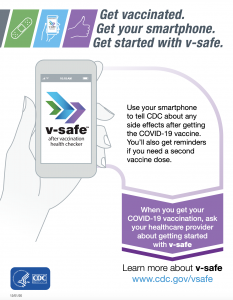 V-SAFE Vaccine Safety Monitoring
Vaccine safety has been and will continue to be one of CDC's top priorities. Once COVID-19 vaccines are made available in the United States, CDC will rely on existing systems and a new system, V-Safe, to monitor vaccine safety.
V-Safe is a smartphone-based tool that uses text messaging and web surveys to provide personalized health check-ins after someone receives a COVID-19 vaccination. Through V-Safe, vaccine recipients can quickly tell CDC if they have any side effects after getting the COVID-19 vaccine. Depending on their responses, CDC may follow up with them by phone to get more information. V-Safe will also remind them to get their second COVID-19 vaccine dose, if needed.
The Vaccine Adverse Event Reporting System (VAERS) is a national vaccine safety surveillance program run by CDC and the Food and Drug Administration (FDA). VAERS serves as an early warning system to detect possible safety issues with U.S. vaccines by collecting information about adverse events (possible side effects or health problems) that occur after vaccination.
V-safe After Vaccination Health Checker
How to Report Adverse Events to VAERS:
There are 2 ways to submit a report to VAERS:
Option 1: Submit a VAERS Report online (Preferred)
The online VAERS Report must be completed and submitted in the same session; it cannot be saved and edited at a later time.
Note: sessions time out after 20 minutes of inactivity; no information is saved.
Option 2: Download a Writable PDF Form and upload when ready
The Writable PDF Form can be downloaded and completed electronically on your own time. When ready, return to the VAERS Writable PDF web page (use link above) and follow Step 2 instructions to upload the form.
More information on reporting an adverse event to VAERS. If you need further assistance, please email info@VAERS.org or call 1-800-822-7967.
More Information about VAERS
Related Topics: COVID-19 Vaccine, monitoring, safety, Vaccine