Vaccine Safety and Monitoring
Vaccine Safety and Monitoring
---
Safety First
Three vaccines (Pfizer and Moderna, and Johnson & Johnson's Janssen) have begun distributing in the United States.
DPH Statement on FDA and CDC's decision to pause use of Johnson & Johnson vaccine
The Division of Public Health shares the FDA's and CDC's concerns regarding the six cases of blood clots nationwide, among those who received the Johnson & Johnson vaccine. We appreciate that the FDA, CDC and the Advisory Committee on Immunization Practices (ACIP) are looking into data from the US and abroad to assess whether there may be a causal link between the J&J vaccine and blood clots.
We are unaware of any issues of blood clots in Delaware that may be related to this vaccine.
Out of an abundance of caution, we are recommending that our Delaware vaccine partners hold off on using the J&J vaccine until the situation has been further assessed. The state will not use J&J at its vaccination sites until we receive further federal guidance.
At this time per the CDC, these adverse events appear to be extremely rare. The effects that would indicate a blood clot are different than the usual flu-like symptoms experienced between 1 and 3 days after vaccination (minor headache, soreness or redness at the injection site, fatigue, nausea).
Contact your health care provider if you experience the following symptoms within three weeks of getting the vaccine:
Severe headache
Abdominal pain
Leg pain
Shortness of breath
The CDC is not seeing similar issues with Pfizer and Moderna vaccines. If you have an appointment for either vaccine you should keep it.
See the FDA and CDC's press release and the CDC's Health Alert for Medical Providers. Additional guidance for medical providers can be found here.
Compare the Three Vaccines:
Pfizer EUA Information
Moderna EUA Information
Johnson & Johnson EUA Information
Important Links
Is it OK for Me to Get the Vaccine?
Vaccine Ingredients and Allergy Information (3.18.21)
Vaccine Safety Monitoring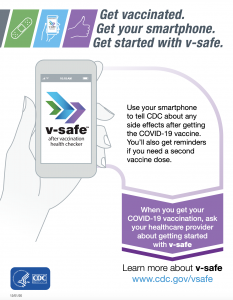 V-SAFE Vaccine Safety Monitoring
Vaccine safety has been and will continue to be one of CDC's top priorities. Once COVID-19 vaccines are made available in the United States, CDC will rely on existing systems and a new system, V-Safe, to monitor vaccine safety.
V-Safe is a smartphone-based tool that uses text messaging and web surveys to provide personalized health check-ins after someone receives a COVID-19 vaccination. Through V-Safe, vaccine recipients can quickly tell CDC if they have any side effects after getting the COVID-19 vaccine. Depending on their responses, CDC may follow up with them by phone to get more information. V-Safe will also remind them to get their second COVID-19 vaccine dose, if needed.
The Vaccine Adverse Event Reporting System (VAERS) is a national vaccine safety surveillance program run by CDC and the Food and Drug Administration (FDA). VAERS serves as an early warning system to detect possible safety issues with U.S. vaccines by collecting information about adverse events (possible side effects or health problems) that occur after vaccination.
V-safe After Vaccination Health Checker
How to Report Adverse Events to VAERS:
There are 2 ways to submit a report to VAERS:
Option 1: Submit a VAERS Report online (Preferred)
The online VAERS Report must be completed and submitted in the same session; it cannot be saved and edited at a later time.
Note: sessions time out after 20 minutes of inactivity; no information is saved.
Option 2: Download a Writable PDF Form and upload when ready
The Writable PDF Form can be downloaded and completed electronically on your own time. When ready, return to the VAERS Writable PDF web page (use link above) and follow Step 2 instructions to upload the form.
More information on reporting an adverse event to VAERS. If you need further assistance, please email info@VAERS.org or call 1-800-822-7967.
More Information about VAERS
Report Vaccination Violations
Submit complaints about a vaccination provider by using this form, if you think they are violating any of these requirements.
Additionally, any health care provider who intentionally or willfully provides or distributes, or who supervises someone who intentionally or willfully provides or distributes the COVID-19 vaccine to any individual who is not authorized to receive such vaccine pursuant to the Vaccination Guidance is guilty of unprofessional conduct as defined in Title 24 and may be subject to licensure discipline. Send your complaints to Division of Professional Regulation about this conduct.
Get More COVID Data
For more data on Delaware COVID cases, testing and outcomes, including demographic breakdowns, go to My Healthy Community
Related Topics: COVID-19 Vaccine, monitoring, safety, Vaccine