Vaccine Safety and Monitoring
Vaccine Safety and Monitoring
---
FDA Approves Pfizer for Ages 16+
The U.S. Food & Drug Administration (FDA) has given full approval for the COVID-19 Pfizer-BioNTech vaccine for individuals 16+. Previously, the vaccine was being distributed only under an Emergency Use Authorization (EUA). There was not enough data to extend full approval to cover persons 12-15 at this time, but the EUA still allows use of Pfizer for this age group.   We are providing a more detailed explanation of what this means and other changes included in the biologics license application (BLA).
The BLA approval for Pfizer includes a name change for the vaccine to COMIRNATY. The formulation of the vaccine is the same; only the name has changed.  Because of the current supply of Pfizer in the marketplace, you will see both names co-circulating. There is no need to re-start a vaccine series begun with Pfizer if COMIRNATY is the only vaccine available to you. Additionally, there is no need to re-start the vaccine series if a patient did not receive their second dose of any mRNA vaccine within the recommended time frame.
See additional resources:
Myocarditis and Pericarditis
Myocarditis and pericarditis, which are extremely rare heart conditions that usually results from a viral infection, such as the flu, Lyme disease, and also COVID-19 disease.
Myocarditis is inflammation of the heart muscle, and pericarditis is inflammation of the outer lining of the heart. In both cases, the body's immune system causes inflammation in response to an infection or some other trigger.
To date, a small number of cases have been confirmed in the United States in adolescents and young adults after receiving the mRNA vaccine by either Moderna or Pfizer. The condition is rare, occurring after less than one percent of the more than 329 million doses of the vaccines which have been administered nationwide.
Most patients who received care responded well to medicine and rest and quickly felt better. Cases have been most common in males under 30 and are most likely to occur within one week after the second dose.
An independent panel of advisors to the CDC met in late June and while they agreed that a warning about the potential risk should be added to the Food and Drug Administration's (FDA) official fact sheets on the vaccines, they stated the benefits of the COVID-19 vaccination far outweigh the risks of heart inflammation in young people.
In a joint statement co-signed by some of the country's leading health organizations, including the U.S. Department of Health and Human Services (HHS), Centers for Disease Control and Prevention (CDC), American Academy of Family Physicians (AAFP), American Academy of Pediatrics (AAP), American College of Physicians (ACP), and American Heart Association, the group stated:
"The facts are clear: this is an extremely rare side effect, and only an exceedingly small number of people will experience it after vaccination. Importantly, for the young people who do, most cases are mild, and individuals recover often on their own or with minimal treatment. In addition, we know that myocarditis and pericarditis are much more common if you get COVID-19, and the risks to the heart from COVID-19 infection can be more severe. We strongly encourage everyone age 12 and older who are eligible to receive the vaccine under Emergency Use Authorization to get vaccinated, as the benefits of vaccination far outweigh any harm."
The FDA and CDC have confidence that the vaccines produced by Pfizer and Moderna are safe and effective in preventing COVID-19. Both agencies will remain vigilant in continuing to monitor this risk and ask providers to make parents and guardians aware of the symptoms of myocarditis.
Symptoms include:
Chest pain
Shortness of breath
Feelings of having a fast-beating, fluttering, or pounding heart
Seek medical care if you think you or your child have any of these symptoms within a week after COVID-19 vaccination.  Contact your health care provider if you have questions.
If you have any health problems after vaccination, report them to the Vaccine Adverse Event Reporting (VAERS): https://vaers.hhs.gov/reportevent.html
Read CDC information page here: https://www.cdc.gov/coronavirus/2019-ncov/vaccines/safety/myocarditis.html.
Guillain-Barre Syndrome (GBS)
GBS is a neurological disorder in which the body's immune system damages nerve cells, causing muscle weakness, or in the most severe cases, paralysis. To date there have been 100 preliminary reports of GBS following vaccination with the Johnson & Johnson (Janssen) COVID-19 vaccine out of approximately 13 million administered doses. Of these reports, 95 of them were serious and required hospitalization. There was one reported death.
Each year in the United States, an estimated 3,000 to 6,000 people develop GBS. Most people fully recover from the disorder. GBS has also been observed at an increased rate associated with certain vaccines, including certain seasonal influenza vaccines and a vaccine to prevent shingles.
At this time there is insufficient data to establish a causal relationship between the Janssen vaccine and GBS.
Learn more about GBS and vaccines here.
Thrombocytopenia Syndrome (TTS)
After receiving the J&J/Janssen COVID-19 Vaccine, there is risk for a rare but serious adverse event—blood clots with low platelets (thrombosis with thrombocytopenia syndrome, or TTS). Women younger than 50 years old should especially be aware of their increased risk for this rare adverse event. There are other COVID-19 vaccines available for which this risk has not been seen.
This adverse event is rare, occurring at a rate of about 7 per 1 million vaccinated women between 18 and 49 years old. For women 50 years and older and men of all ages, this adverse event is even more rare.
Learn more about TTS and the Johnson & Johnson vaccine here.
[/jumbotron]
Compare the Three Vaccines:
Is it OK for Me to Get the Vaccine?
Vaccine Ingredients and Allergy Information (7.30.21)| Español
Vaccine Safety Monitoring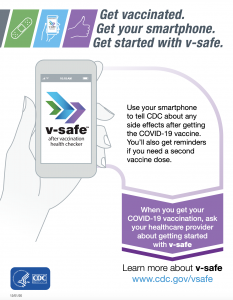 V-SAFE Vaccine Safety Monitoring
Vaccine safety has been and will continue to be one of CDC's top priorities.
V-Safe is a smartphone-based tool that uses text messaging and web surveys to provide personalized health check-ins after someone receives a COVID-19 vaccination. Through V-Safe, vaccine recipients can quickly tell CDC if they have any side effects after getting the COVID-19 vaccine. Depending on their responses, CDC may follow up with them by phone to get more information. V-Safe will also remind them to get their second and third or booster COVID-19 vaccine dose, if needed.
The Vaccine Adverse Event Reporting System (VAERS) is a national vaccine safety surveillance program run by CDC and the Food and Drug Administration (FDA). VAERS serves as an early warning system to detect possible safety issues with U.S. vaccines by collecting information about adverse events (possible side effects or health problems) that occur after vaccination.
V-safe After Vaccination Health Checker
How to Report Adverse Events to VAERS:
There are 2 ways to submit a report to VAERS:
Option 1: Submit a VAERS Report online (Preferred)
The online VAERS Report must be completed and submitted in the same session; it cannot be saved and edited at a later time.
Note: sessions time out after 20 minutes of inactivity; no information is saved.
Option 2: Download a Writable PDF Form and upload when ready
The Writable PDF Form can be downloaded and completed electronically on your own time. When ready, return to the VAERS Writable PDF web page (use link above) and follow Step 2 instructions to upload the form.
More information on reporting an adverse event to VAERS. If you need further assistance, please email info@VAERS.org or call 1-800-822-7967.
More Information about VAERS
Related Topics: COVID-19 Vaccine, monitoring, safety, Vaccine