Get More COVID Data
For more data on Delaware COVID cases, testing and outcomes, including demographic breakdowns, go to My Healthy Community
Get Tested

Find a

testing location near you

. Certain locations are available for those who have symptoms and certain locations for those without symptoms.
Take steps to avoid contact with others by:
---
Be Aware of Cyber Security:
Relevant and helpful information to address security and privacy concerns surrounding the global Covid-19 outbreak.
---
Wear a Face Covering

Under Governor John Carney's

13th modification to the State of Emergency declaration

, Delawareans are required to wear a face covering in public if social distancing cannot be maintained. Children 2 and younger MUST not wear a face covering because of the suffocation danger. Face coverings are not required for children ages 3-12.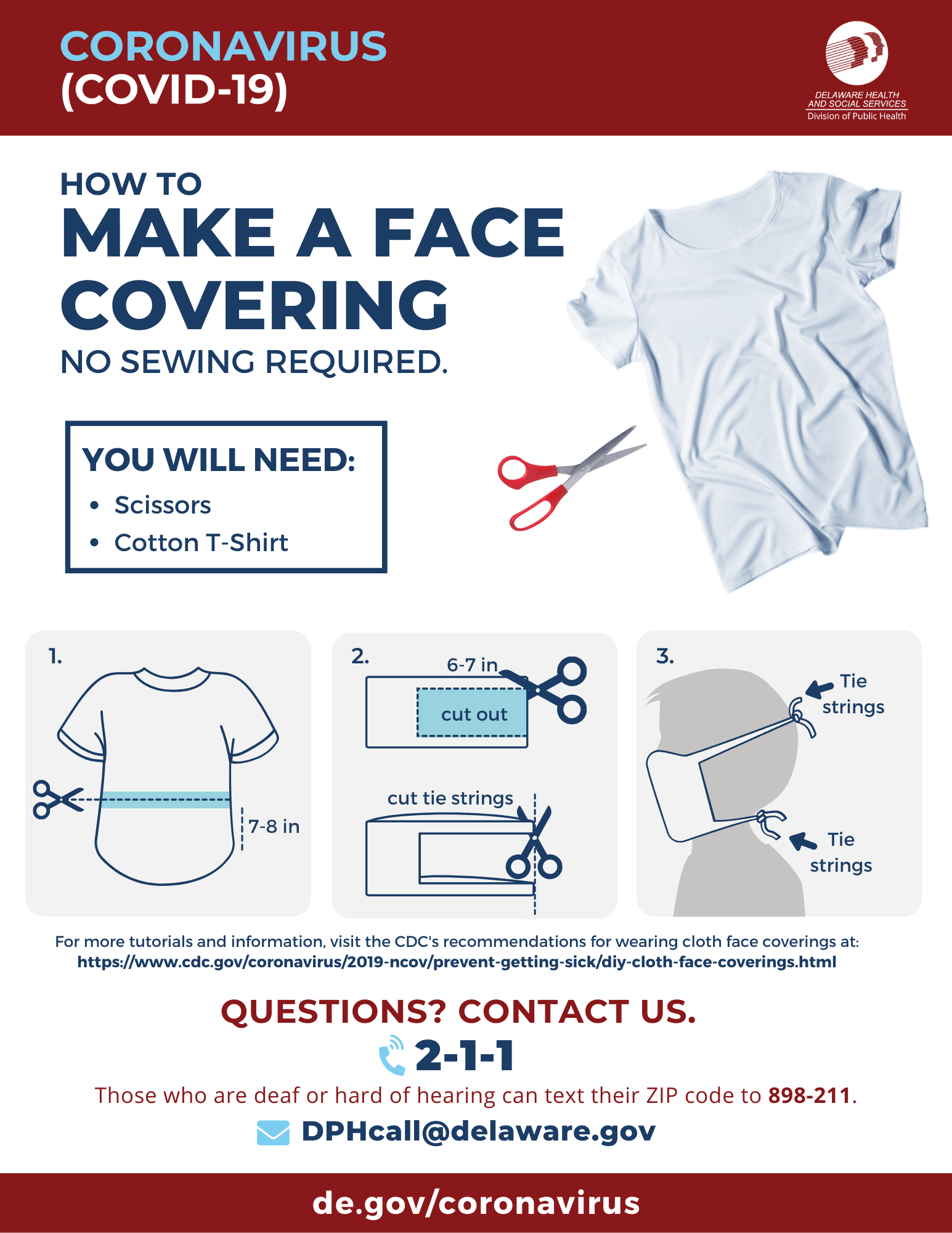 Practice Social Distancing
Social distancing is a public health practice that aims to prevent sick people from coming in close contact with healthy people in order to reduce opportunities for disease transmission.
During Social Distancing
To help reduce the curve of coronavirus, stay at home whenever possible. If you do go out for an approved activity (things like going to the grocery store, pharmacy, picking up take out, or if you are an essential worker), be sure to maintain at least 6 feet of space between yourself and other people.
Help Delaware slow the spread of COVID-19 this fall
---
Managing Stress
We all are feeling stress right now, but there are ways to reduce those levels:
Know that it is normal to feel stressed and anxious during this time.
Take breaks from surfing coronavirus news and unwind.
Prioritize your health by eating healthy, moving regularly and getting a good night's sleep.
Take deep, filling breaths when you feel anxious.
Close your eyes, count to 10 and meditate.
Call your health provider if stress is impacting your day-to-day life for multiple days.
Talk to your family and friends, and be open about your thoughts.
If you are experiencing a mental health crisis, call DHSS' 24/7 Crisis Helpline at 1-800-652-2929

1-800-652-2929

in New Castle County, or 1-800-345-6785

1-800-345-6785

in Kent and Sussex counties.
---
How to Talk to Your Children About Coronavirus
Ask age-appropriate questions about how they feel about the virus and take their lead.
Encourage children to ask questions and share their worries, and address them one by one. Check in regularly.
Try to speak calmly and remain at ease when talking to kids. Kids pick up on every emotion and worry.
Help children take charge of their health during this time with action, like hand washing.
---
Frequently Asked Questions
---
Resources
---
Related Topics: coronavirus, COVID-19, Delaware, Delaware coronavirus, Resources, What delawareans can do, What you can do coronavirus