Get More COVID Data
For more data on Delaware COVID cases, testing and outcomes, including demographic breakdowns, go to My Healthy Community
ADD YOUR PHONE TO THE COVID-19 FIGHT
Help Delaware Slow the Transmission of the Coronavirus
Download Delaware's FREE COVID Alert DE exposure notification app to help protect your neighbors while ensuring your privacy. The app will no longer be active as of September 6, 2022.

*Mobile device needs to support Bluetooth low energy as well as iPhone 6S and newer, or for Androids – Android 6 or higher and iOS 13.5 or higher.
Suma tu teléfono a la lucha contra el COVID-19
Ayuda a Delaware a detener la transmisión del coronavirus
Descarga de forma gratuita la app COVID Alert DE para recibir notificaciones de exposición y proteger a tus vecinos sin descuidar tu privacidad. La aplicación dejará de estar activa a partir del 6 de septiembre de 2022.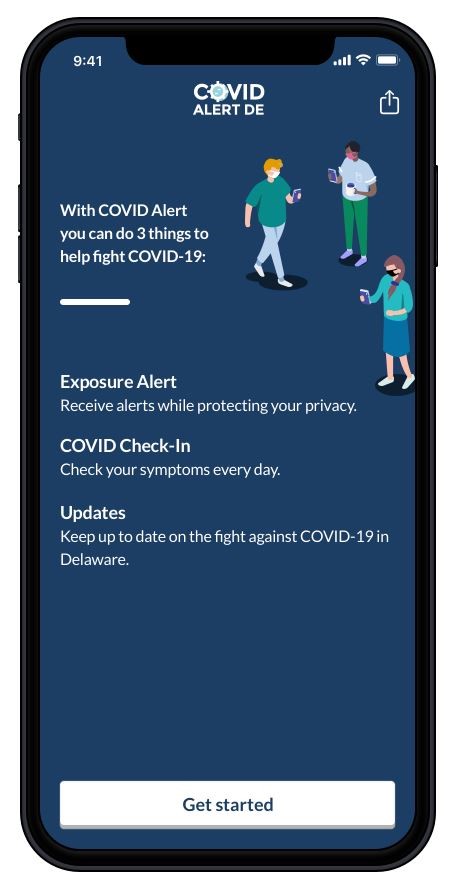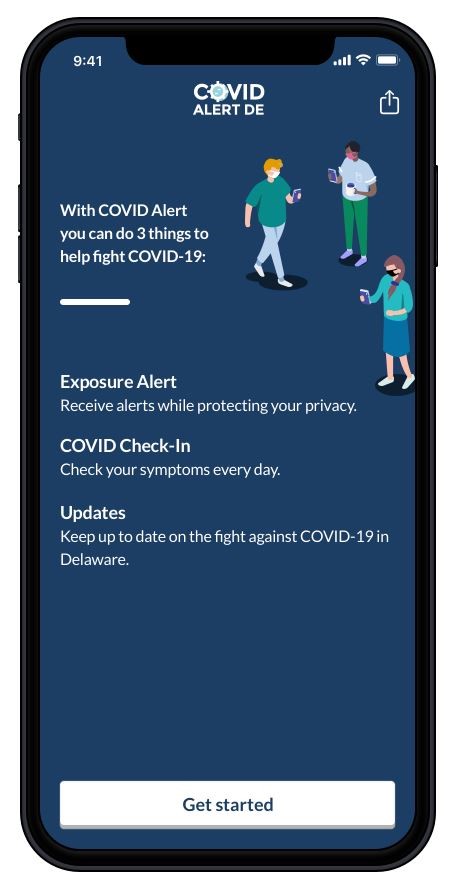 ---
Use Your Phone to Fight COVID-19
After you download COVID Alert DE on your iPhone or Android, follow the app instructions to turn on your exposure notifications. This allows you to be notified if you've likely been exposed to someone who has tested positive for COVID-19. You also can log any symptoms you have and stay up to date on the fight against COVID-19 in Delaware. What you decide to enable on the app is up to you. You are in control.

---
How It Works
COVID Alert DE uses Bluetooth Low Energy (BLE) technology to alert app users if they have been in close contact (within 6 feet for 15 minutes or more) with someone who has tested positive for COVID-19 and is also using the app. If you are fully vaccinated, the alert does not affect you.
View Frequently Asked Questions
Step 2
Once you decide to opt in for exposure notifications, your phone will anonymously share random Bluetooth keys that change every 10-20 minutes with other phones that are using the app and are in close proximity.
Step 3
Your phone and others using the app will exchange those Bluetooth keys in the background, without draining your phone's battery or data. This is a passive process that begins once you enable notifications, and functions without the app open.
Step 4
When app users test positive for COVID-19 and they decide to share the results through the app by entering a special 6 digit code, the list of random keys they have encountered in the past 14 days is checked against theirs.
Step 5
If there is a match, the app alerts the other individual they are a close contact, encourages them to get tested for COVID-19 and to self-quarantine.
---
Your Privacy
The State of Delaware and the Delaware Division of Public Health take privacy seriously. The COVID Alert DE app protects your privacy and does not collect or share any personal information that can identify you. The app will not use GPS navigation to collect movement or geographic location of individuals. Instead, this app uses Bluetooth proximity-enabled exposure notification service technology provided by Apple and Google. You are in control:
Your identity can never be revealed to anyone.
The app cannot be used to track your location, or see if you are self-isolating or quarantining.
You decide whether to opt-in to receive alerts, share demographic information or allow app usage data to be collected.
If you test positive for COVID-19, you decide whether to share the result. The app does not know personal details of who tested positive for COVID-19.
You can turn off alerts or delete the app at any time.
YOUR DATA. YOUR CHOICE.
COVID Alert DE Data and Privacy Policy
COVID Alert DE Política de Privacidad y Protección de Datos
---
Resources and Information
---
Community Partners
The State of Delaware thanks the following Delaware educational businesses, organizations and educational institutions for joining the fight against COVID-19.