Flu is statewide in Delaware and cases are increasing quickly. Cases of RSV – another respiratory virus that causes trouble breathing, and is especially dangerous to children and infants under age 2 – are also rising. And of course COVID-19 is still out there.
Protect Yourself and your family:
Get Vaccinated. While there is no vaccine against RSV, there are vaccines for flu and COVID-19. Make sure you are up-to-date and get your flu and COVID-19 vaccines now. You can get them both during the same visit.
Stay home if sick
Cover coughs and sneezes
Wash hands frequently
Test for COVID-19 if sick, and if that's negative, consider calling your doctor to see if you need a flu test. If it's the flu, your doctor may be able to prescribe antivirals to ease your symptoms.
Hospitals are stressed. Know when – and when not – to go to the ER or call 9-1-1:
VISIT ED:
Trouble breathing or wheezing that is not well-controlled by asthma medications
Unusual sleepiness or confusion
A stiff neck and a fever
A cut that won't stop bleeding
A broken bone
Tightness in chest or pain
Elevated blood pressure with other symptoms, such as chest pain or severe headache
Drug overdose
A head injury with vomiting, sleepiness, fainting or seizure
An eye injury
A serious burn
At risk of harming themselves or others
DON'T VISIT ED:
Need a COVID-19 test
Don't feel well but can manage symptoms with over-the-counter medications
Elevated blood pressure without other symptoms
Runny nose/cough without trouble breathing
Fever with mild symptoms
Muscle soreness or backaches
Minor cuts or scrapes
Nausea or diarrhea without abdominal pain
Flu Vaccines:
Getting the flu vaccine is the first and most important step you can take to protect yourself and your loved ones. The flu vaccine is safe for individuals 6 months and older; free to most Delawareans, even if you do not have insurance. It is very important for groups at higher risk, such as seniors, women who are pregnant, young children, and people with chronic health conditions; and something you should get every year.
Make the time to fight for your health; get the flu vaccine today. To find your flu vaccine, click here to visit the CDC Flu Finder or click the button above to see a list of DPH flu vaccine clinics.
During the 2021-2022 Flu Season in Delaware:
*Per data from Oct. 2021 to June 2022. Data from June through September is not available.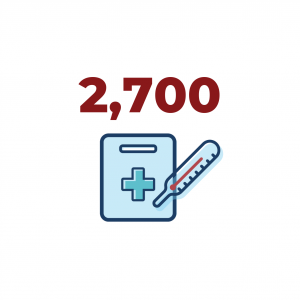 More than 2,700 laboratory-confirmed flu cases were reported.
There were 155 hospitalizations.
3 people died from flu complications.
Learn More About the Flu
---
2022-2023 Flu Season Toolkit:
Download, print and share.
---
For additional information call 1-800-282-8672, or visit flu.gov. The best source of information about the flu vaccination if is your physician.

Reminder: The flu vaccine can be administered at the same time as a COVID-19 vaccine or booster.
Stats on COVID-19
For more data on Delaware COVID-19 cases including demographic breakdowns, go to My Healthy Community