Stay-at-Home Resources for Kids and Families
Get More COVID Data
For more data on Delaware COVID cases, testing and outcomes, including demographic breakdowns, go to My Healthy Community
Stay-at-Home Resources for Kids and Families
Remote Learning Activities 

The Delaware Department of Education is dedicated to providing the best resources for educators and families during this time of extended school closures.
A list of online activities for all subjects and grade levels is available here.
DDOE is also working directly with districts and charter schools to provide educator support for remote learning.
---
Online Arts & Cultural Programming
DelawareScene.com, powered by the Delaware Division of the Arts, has compiled a comprehensive list of online-only content provided by local Delaware and regional arts organizations.
Listings include programs from the Delaware Contemporary, the Biggs Museum of American Art, the Delaware Children's Museum, First State Ballet Theater and many more. Browse by category, region and date.
This is the perfect time to immerse yourself in the arts now, soon, and near you.
Sign up for DelawareSceneStealers, a bi-weekly digest of arts and culture events across Delaware.
---
Virtual Library Events
Local libraries may be closed, but many scheduled activities have moved online and remain accessible to the community.
Storytimes, kids' crafts, STEM meet-ups, book clubs and other programs presented by libraries across Delaware are now available via platforms like Zoom and Facebook Live.
The Delaware Division of Libraries maintains a Virtual Events Calendar with regular updates, click here to take a look.
---
Free Digital Media
hoopla is a digital media service offered by Delaware Public Libraries that allows you to borrow movies, music, audiobooks, ebooks, comics and TV shows to enjoy on your computer, tablet, or phone – and even your TV is NOW available! Download the hoopla app to your device, sign-in with your Delaware Library Card. Don't have a library card yet, sign-up online today. It's all FREE!
With no waiting, titles can be streamed immediately through your desktop browser or hoopla mobile app. You can download to phones or tablets for offline enjoyment later where Wi-Fi may be unavailable. Titles are automatically returned and removed from your device at the end of the lending period.
hoopla has an abundance of titles to choose from, with more being added daily. It's like having your Delaware public library at your fingertips. Anytime. Anywhere.
---
Goodnight with Dolly – Bedtime Stories with Dolly Parton
Goodnight with Dolly is a 10-week special series of weekly videos featuring Dolly Parton reading select Imagination Library books.
Goodnight with Dolly launches on April 2, with the hope that this gift will further inspire a love of books and shared storytime during this important period. The weekly read-aloud series features several of the Imagination Library's wonderful books including "The Little Engine That Could." Watty Piper's classic tale of a determined little engine has been an inspiration to generations. This year marks the 90th Anniversary of "The Little Engine That Could." For many years the story has been a source of inspiration for Dolly and it is the welcome book that all newly registered children in the United States and Canada receive when they sign up for Dolly Parton's Imagination Library.
What is Dolly Parton's Imagination Library?
Delaware Libraries are piloting this program to provide FREE books to children from birth up to age 5.
In the Imagination Library program, children ages birth up to 5 receive a book in the mail each month.
These quality books are selected by a national panel.
---
Virtual Environmental Content
The Department of Natural Resources and Environmental Control encourages Delawareans to take advantage of its robust collection of online resources. They can watch live virtual park programs multiple times a week, take a virtual boating course, explore parks and historical areas by video and more.
Daily Delaware State Parks Virtual Content: Dive into Delaware State Parks from the comfort of home with videos and interactive blog posts shared with the public every day at 11 a.m. Park interpreters provide virtual programs through a new series of videos posted every Monday, Wednesday, and Friday on Delaware State Parks'

Facebook

,

Instagram

and

YouTube

accounts. History lessons, scavenger hunts, virtual hikes and other activities are featured on the

Delaware State Parks Adventure Blog

every Tuesday and Thursday. In addition, each state park now has a designated day of the week to post special content on their individual Facebook pages. All virtual content will remain online for the public to view at any time.
DNREC YouTube Channel: Explore the world of DNREC through video. From barn owls to snowy owls, Mirror Lake to Massey's Landing, recycling tips and environmental education. DNREC has lots of engaging content to share with kids and adults alike. One recent video is an overview of the Fort Miles area of Cape Henlopen State Park, a good way to see and learn the history of Delaware's critical World War II military installation with tours currently not taking place.
Outdoor Delaware: Enjoy the digital Outdoor Delaware. In the spring edition, read about the red knot's migration from South America to the Delaware Bay, cleaner alternatives to gas-powered cars, and how to create backyard habitats without breaking the bank.
---
Virtual Adventures from Visit Delaware
Immerse yourself in this never-before-seen interactive experience of warm beaches, grand mansions and thrilling adventures. Let your interests lead the way while behind your screen, busy little bots formulate your unique trip, then voila! your virtual adventure appears like magic right before your eyes!
---
Delaware Digital History Museum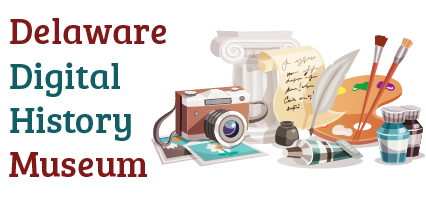 The Division of Historical and Cultural Affairs (HCA) has launched a new, creative platform for Delawareans to continue to engage with the history of the First State and enrich their understanding of its people, places, events and artifacts.
The new Delaware Digital History Museum, available at HCA's website, provides a wide variety of electronic opportunities to experience Delaware history at home.
---
This page will be updated as more resources are made available.