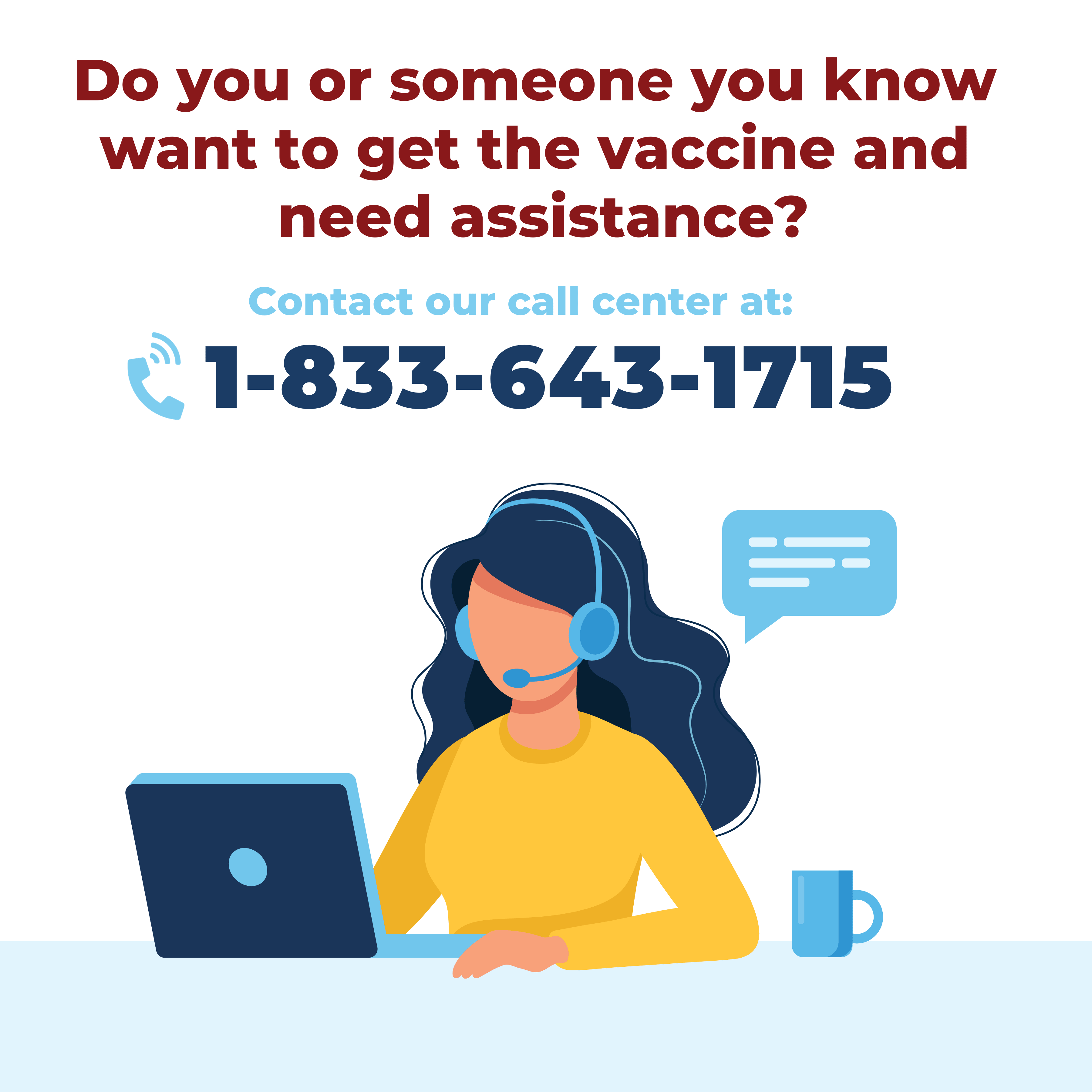 Fast and Fair: Equitable Pathways to the Vaccine
Delaware has implemented a multi-step plan to ensure equity in the state's vaccine distribution process. Delawareans need multiple pathways to access the vaccine. Learn more about these venues, communications and outreach efforts to reach underserved communities, and the state's efforts to provide complete and accurate vaccination data.
Federally Qualified Health Centers
Delaware has three Federally Qualified Community Health Centers (FQHC). FQHCs are community-based health care providers that receive federal funding to provide primary care services in underserved areas. The federal government has announced that all FQHCs in Delaware – La Red Health Center (Milford, Georgetown, and Seaford), Westside Family Healthcare (City of Wilmington, Bear, Dover, and Newark), and Henrietta Johnson Medical Center (City of Wilmington) – have been selected to receive a dedicated allocation from the federal government on top of the state's weekly supply. The state will continue to support the critical role that all FQHCs have to serve our underserved communities and those disproportionately affected by COVID-19. All three FQHCs have been vaccinating their patient population over the last several months, and partnering with community organizations to vaccinate underserved Delawareans in the surrounding community.

---
Fixed Community Sites
The State is assisting to coordinate vaccination events at various locations throughout the state, including community centers, senior centers, and churches. The Division of Public Health has static sites in each county at Division of Public Health clinics, and created a regular schedule of vaccination opportunities at those locations. DHSS staff previously contacted people on the state waiting list who were from identified underserved communities to assist them in setting up an appointment. Flyers with information about the fixed community sites have also been distributed in these communities.
---
Curative Sites
Curative has hosted vaccine events several times per week at the Delaware Technical Community College campuses in each county since early Spring. These vaccination sites are available for individuals aged 12+. Curative will also assist with mobile vaccination events. Click here to learn more about these locations.
The State continues to work with community organizations to invite vulnerable community members, including those who do not have access to internet, to vaccination events.
The State also deployed Delaware Health and Social Services' staff to call seniors in underserved communities to help them schedule an appointment. If you or someone you know is still in need of a vaccination, please call the DPH call center at 1-833-643-1715, choose option 3. DPH staff will assist in scheduling an appointment at a DPH clinic.
---
Rotating Community Sites
Mobile Teams:
The Division of Public Health created mobile teams to provide vaccination events at sites identified by community partners, such as churches and centers predominantly within underserved communities in priority zip codes. The teams were trained and began their work the week of March 1. Through on-the-ground outreach, the State also provided vaccination vouchers to communities across Delaware.

Low-Income Senior Living Program:
In February, the State partnered with the Wilmington Housing Authority to vaccinate senior residents of high rises throughout the city, followed by statewide efforts in areas with low-income housing.

---
Provider Partnerships
Providers throughout the state, including Delaware ENT & Allergy and all Delaware hospitals, have developed partnerships with community and/or faith-based organizations to recruit individuals from diverse populations for vaccination. The Division of Public Health is available to serve in a matchmaking role to connect interested medical providers with community groups.
Working with Healthy Communities Delaware and using the CDC social vulnerability index, DPH has identified several disadvantaged ZIP codes throughout the state and identified pharmacies in or near them. Vaccines are available in pharmacies and health care providers in underserved communities that make it easier for a diverse group of Delawareans to access the vaccine. The federal government is sending a separate allocation of vaccine weekly — on top of the state's allocation — directly to several pharmacy chain stores across the state to serve the same purpose.
Additionally, pharmacies offer scheduling by phone to reduce access barriers for those without computers.
Get More COVID Data
For more data on Delaware COVID cases, testing and outcomes, including demographic breakdowns, go to My Healthy Community