Get More COVID Data
For more data on Delaware COVID cases, testing and outcomes, including demographic breakdowns, go to My Healthy Community
Get Help
Consumer Protection Standards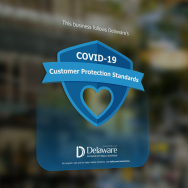 Price Gouging
Report Price Gouging on the Delaware Attorney General's website.
Find PPE Supplies
Visit the Business to Business PPE Toolkit page to connect with businesses that self-reported that they have Personal Protective Equipment available. Disclaimer: The State of Delaware has not vetted this information; it is self-reported information provided by the suppliers and has not been independently verified.
Delaware State Chamber of Commerce (DSCC)
Food Establishments
Child Care
Small Business Assistance
Unemployment Assistance
Please note: Some of the files available on this page are in Adobe PDF format which requires Adobe Acrobat Reader. A free copy of Adobe Acrobat Reader can be downloaded directly from Adobe. If you are using an assistive technology unable to read Adobe PDF, please either view the corresponding text only version (if available) or visit Adobe's Accessibility Tools page.